Son Doong cave(Vietnamese: Hang Son Doong) is world's largest cave, located in Quang Binh province, Vietnam. It is found by a local man named Ho Khanh in 1991 and was recently discovered in 2009 by British cavers, led by Howard Limbert. The name "Son Doong" cave means "mountain river cave".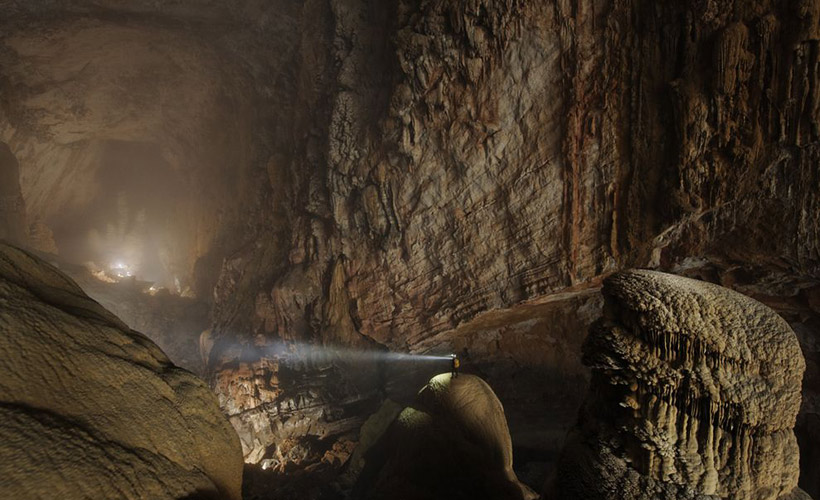 Sơn Đoòng Cave was found by a local man named Hồ-Khanh in 1991. The local men were afraid of the cave for the whistling sound caused by an underground river. It was not until 2009 that it became public knowledge after a group of scientists from the British Cave Research Association, led by Howard and Deb Limbert, conducted a survey in Phong Nha-Kẻ Bàng from 10 April 10 to 14 April 2009.Their progress was stopped by a large calcite wall.

According to the Limberts the cave is five times larger than the Phong Nha cave, previously considered the biggest cave in Vietnam. The biggest chamber of Sơn Đoòng is more than five kilometres long, 200 metres high and 150 metres wide. With these dimensions, Sơn Đoòng overtakes Deer Cave in Malaysia to take the title of the world's largest cave.

An exit from the cave was found in 2010. The group that scaled the 200 metre high wall found cave pearls the size of baseballs, an abnormally large size.

The team found an underground river running through the first 1.6 miles (2.5 kilometers) of the limestone cavern, as well as giant stalagmites more than 230 feet (70 meters) high.
The explorers surveyed Son Doong's size using laser-based measuring devices.
Such modern technology allows caves to be measured to the nearest millimeter, said Andy Eavis, president of the International Union of Speleology, the world caving authority, based in France.
"With these laser-measuring devices, the cave sizes are dead accurate," he said. "It tends to make the caves smaller, because years ago we were estimating, and we tended to overestimate."
Eavis, who wasn't involved in the survey, agreed that the new findings confirm Son Doong's record status—despite the fact that he had discovered Borneo's now demoted Deer Cave.