The S.E.A. Aquarium, Singapore, with its 49 habitats totalling  38.7 million litres (8.5 million UK gal; 10.2 million US gal) of salt water and fresh water, is the worlds largest aquarium. It was officially inaugurated on 7 December 2012.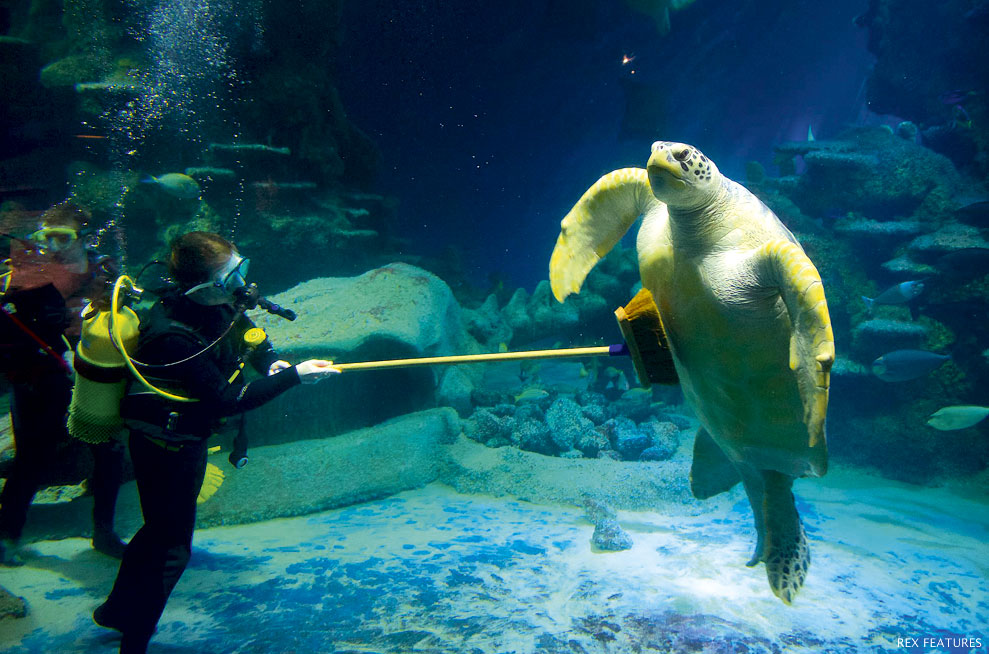 With the life support system, the water capacity increases to 42.8 million litres (9.4 million UK gal; 11.3 million US gal). The aquarium's largest tank habitat is the Open Ocean Habitat, with 18.2 million litres (4 million UK gal; 4.8 million US gal) salt water (not including the life support system). The S.E.A. Aquarium is located at the Resorts World Sentosa, a multi-theme holiday resort inaugurated in January 2010. The aquarium houses 100,000 animals of over 800 species, among which manta rays, goliath grouper, and sharks and also includes the Mekong Giant catfish, which can reach 3m in length. Only a few hundred of these huge fish are thought to remain in the wild. The specimens at the park were transported from a captive breeder in Thailand.
River Safari features a Giant Panda Forest – the largest panda exhibit in Southeast Asia – where visitors can see Giant pandas, Red pandas and Golden pheasants in a climate controlled biodome.

The park features some other pretty cool fish including Goonch catfish, Mississippi paddlefish, Murray cod, Australian lungfish, Giant freshwater stingray, Tigerfish, puffers . There are also reptiles and amphibians such as Indian gharial, Chinese alligators, Frog-faced softshell turtles and Giant salamanders.
Set over 29 acres, the park is Asia's first and only river-themed wildlife attraction and is considered the worlds largest freshwater aquarium.The park showcases wildlife from eight river systems of the world, including the Mekong River, Amazon River, Congo River through to the Ganges and the Mississippi.